Igor KOLGAREV
MY PHILOSOPHY FOR CREATING CHRISTIAN COMICS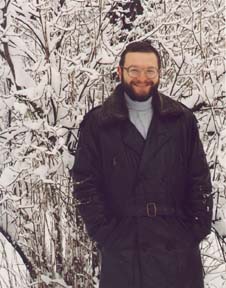 It is difficult to draw Christian comics. It is difficult because there is a certain tradition behind this genre of Art. People are used to comics as an entertainment, humor or adventure. And there's too little comics in Russia at all.
That's why it was kind of risky to start drawing Christian comics for me. What kind of comics are better? What way to draw them? What should in them? These are the questions that a Christian comics-maker always face.
The "Missionaries" comics was made for the youth issue of our church newspaper. I read life stories of missionaries in Christian magazines and saw a lot of interesting subjects that you usually cannot see in our everyday life. I didn't want to create an agitation leaflet, a work containing a straightforward call to penance. Christian magazines may publish such things but in my opinion they are closer to advertizement than to Art. I think no one would like to watch karate movies if they were made in a form of a training course. People would turn away from such a strange culture. That's why Chinese and Japanese enthusiasts of oriental martial arts make movies, draw comics, where depict their ideas in a game form. Audience watches the adventures of karatists and wants to go in for karate and study oriental religions.This is the way Christians ought to do also.
We may and should preach, write theological articles, but also we need to create our own, new Christian Art. Christianity contains in itself much more life, light, common sense and good than other religions. That's why Christian artists' goal is to show Christianity in action, in life, to show how it really helps to live. Christianity has something that other religions lack - Jesus Christ, who saves, loves, forgives, gives strength and happiness. So we don't have to agitate anyone, we just have to show other people how Christians live with God.
The action in common comics takes place in extreme situations: war, jungle or some fantastic worlds. We Christians send missionaries to far-away lands, to uncivilized people, where they are usually met by hostility, danger and opposition from local pagan cults priests. This is a very promissing field for creating interesting and exciting comics. Missionaries can arrive at a war or into jungle, so there'd be enough adventure.
The "Missionaries" comics was created just as an interesting story telling about the service of Russian missionaries in the far North-East of Russia (Chukotka). It tells about two young brothers that came there to preach Christ. Obviously the small number of pages in the comics (only 4) doesn't allow to show the work of the Christians in detail. I think that exactly the small number of pages in comics makes Christian artists draw comics as agitation leaflets, as an advertising. And it prevents people from looking at them seriously. Even the "Missionaries" comics which I created as one without straightforward agitation some readers criticized as "paid for" or "narrow-minded", which upsets me. One should avoid such definitions in his work. Any comics should be interesting and exciting firat of all and its ideas should be understandable and unobtrusive regardless of the its plot.
But Christian comics cannot be like other non-Christian comics. Our heroes do not do what is common with others: they do not kill, lie, do evil on purpose or sin. This leads us to the "positive hero problem" which is a big one. Missionaries, Christians are just people. They are no gods, no artifitial robots programmed to be good. They have their own weaknesses and fears. Their spisits can go low, they can cry, get offended and make mistakes. The positive hero is not someone who is always right, but someone who fights his own weaknesses with the help of God. Otherwise such an unnaturally positive hero would rise no interest in readers. During Soviet times the authority in USSR created such heroes out of Lenin, Stalin, Korchagin (a hero of a famous communist book), communists. People didn't like it because they felt hypocrisy in it. The Christian comics maker's goal is to show his characters as real and interesting people, but so that they wouldn't behave as characters of non- Christian authors.
In the "Missionaries" comics the brothers do not fight or shoot, they do not complain at locals and don't curse anyone (it's a sin), but at the same time they act: they pray, they exorcize evil spirits and preach Gospel regardless of threats and danger. It is shown in the comics how God helps Christians through other people and circumstances: the shaman is driven out by something supernatural, then soldiers came to rescue them at the moment they couldn't possibly protect themselves because they never bear arms. God protects Christians. It is important that in Christian comics not some superman created justice with his fists or weapons, but God himself. So that all the glory falls not on the characters', not on the author's lot, but God's. «For we wrestle not against flesh and blood, but against principalities, against powers, against the rulers of the darkness of this world, against spiritual wickedness in high places». Christian comics would only be successful if the main hero in it is God. Otherwise people would reject a comics that states that "only Christians are good and all the other people are bad".
In the "Missionaries" comics I tried to show exactly common men-missionaries through whom acts God. That's how it usually happens in true life. But if I succeeded in showing that is another matter. But I intend to follow that conception, use that philosophy in creating my comics.
Also some people say that Christian comics should be drawn in highly artistic manner. May be it is so. But I consider that there can be different styles and the main idea is to make comics understandable and clear. The primitive style of my comics (naive Art, Russian Lubok) also shows that I draw not an icon, not a poster, that I don't behave like I am higher than others, but that I speak with a common, simple and comprehensive tongue of Art about important things. And, as it is said, «God hath chosen the foolish things of the world to confound the wise; and God hath chosen the weak things of the world to confound the things which are mighty; And base things of the world, and things which are despised, hath God chosen, yea, and things which are not, to bring to nought things that are: That no flesh should glory in his presence... That, according as it is written, He that glorieth, let him glory in the Lord».
In general Christian comics, in my opinion, is only a part of diverse Christian Art, that can develop into a mighty and refreshing power, can form new Christian modern culture, which is far from both sinful values of this world with its pluralism and loss of understanding of Good and Evil, and also superstitions of older religion that passed off as Christianity something that never had any connection to the True Church of Christ, which consists of all humans that were born from on high.
So let's serve God with the talents that he gave us, if it doesn't harm our souls, if it teaches people, if it brings joy and diversity into our Christian life, life that comes from the eternal source of happiness and glory, from our Lord Jesus Christ, who won over death and Hell, and disgraced Satan with his pseudo-Art, who gave us fortune not only to be called but to really be God's children, able to create new Christian Art, thriugh which we preach all that is everlasting, beautiful and bright, to which our Lord calls us!
---
[Articles] [Comics] [Cartoons] [Pictures] [Links]
[Home]